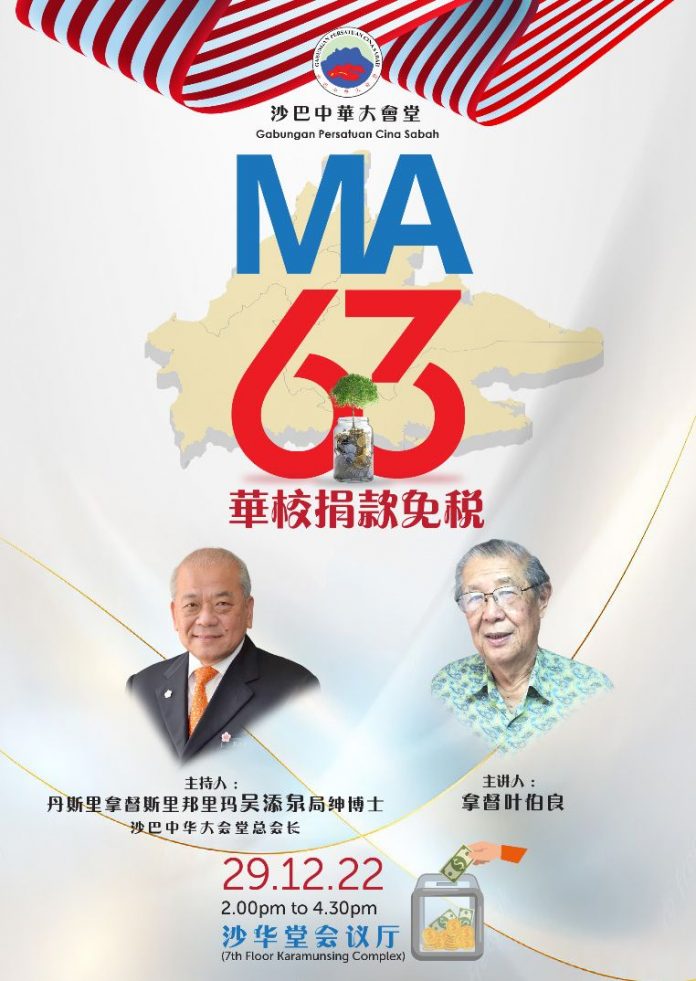 KOTA KINABALU: All public donations made to schools in Sabah are supposed to be exempted from taxation, said Tan Sri T.C Goh, President of The Federation of Chinese Associations Sabah (FCAS).
He pointed out that such a privilege was in accordance with the provision of the Malaysia Agreement 1963, but it was either forgotten or ignored all these years, and it's time to reinstate it. .
He thus hoped the state government and the policymakers, both at Federal and state levels, would take serious note of this and to make sure that such privilege under the MA63 is immediately restored.
He continued that, the FCAS will be organising a public forum themed: "MA63: Tax Exemption for Public Donations for Schools in Sabah" on this coming 29 December at the FCAS conference room, at Karamunsing Complex here, from 2pm to 4.30pm. Among the Speakers for the forum are Chinese community leader cum former Sabah Manpower & Environmental Development Minister (1976 to 1979) and Sabah Local Government & Housing Minister (1976 to 1982), and renowned Kota Kinabalu based *Chartered Accountant, CK Wong who will also take questions from the floor, during the 'Question and Answer' session.
Goh who will be the moderator of the forum said, the school boards of various Chinese independent schools, the national-type Chinese secondary schools and Chinese primary schools in the state, are especially welcomed to partake in the said forum. Admission is free.
He explained that the forum aims to create awareness among the school boards in Sabah, Chinese schools especially, over the said privilege accorded by the MA63, so that they could do the necessary to safeguard it.
He reckoned that the restoration of such privilege would bring about a significant and positive impact to fundraising activities organised by the Chinese community, in aid of the Chinese schools in Sabah, in future.
For more information concerning the public forum, one may contact FCAS vice president, David Chang at: ‪019-8803411‬.